La Falda
La Falda is an experimental project completed as part of a renovation to a primary school in Alicante, clad in tiles made from recycled bitumen panels. The project formed part of a larger phased masterplan for the development of the school that began in 2015.

The undulating forms were designed to reference the terracotta tiles synonymous with the region and the colour palette of southern Spain. Our concept was the design of a low-tech solution that could be easily constructed by the studio and a team of students in a matter of days. The self-build was completed on a very tight budget and has radically changed the architecture, helping to give new life to a tired building at the school.

In accordance with Spanish planning laws, the school's location on designated agricultural land means that any new buildings have to be classified as 'temporary'. The current primary school is housed in a 30-year-old prefabricated structure which has inevitably weathered over the years, and we wanted to help provide a distinctive architectural identity that would transform the project and could inspire the students in the years to come.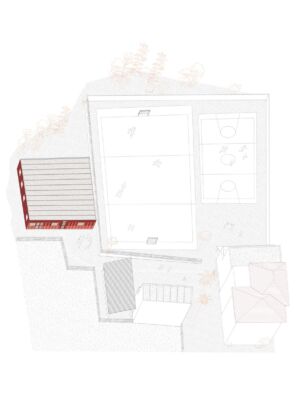 The developed of the project involved rigorous material investigations as well as the testing of paints and different colour variations to help achieve an effect that feels almost crafted. The choice to use the corrugated sheets came from the economy of means and the resources available, yet the versatility and malleability of the material offered an opportunity to create tiled-sized panels that could cover a large area of the façade. The project was a search for new methods of using the material – which is often used to clad warehouses and farm buildings – in an inventive and beautiful way.

The result is a patchwork of tiles in different shades of red that have a richly textured surface. The subtle tonal variations of the façade give the building its dress-like quality.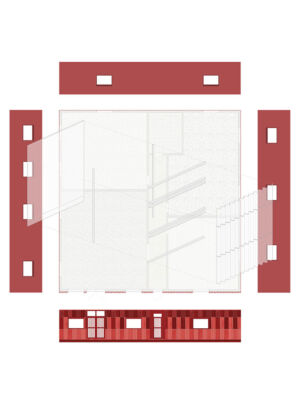 Title: La Falda
Location: Alicante
Year: 2018
Client: Sierra Bernia School
Type: Cultural
Status: Completed